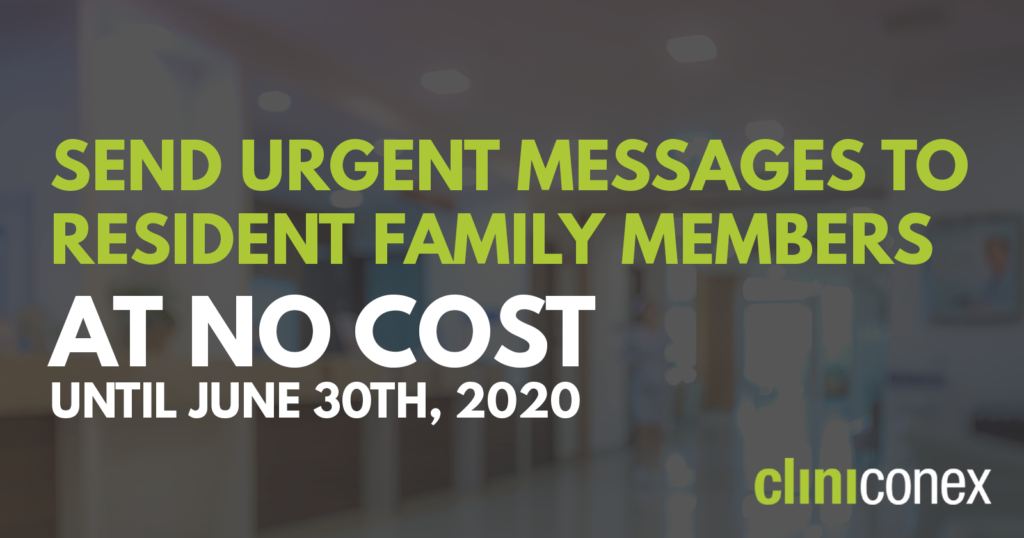 Keeping resident families informed of their loved one's status is critical in an emergency. The current COVID-19 crisis has made this more important than ever before.
With senior care facilities continuing to feel the impact of the virus, care teams are working long hours and extra shifts to care for their residents, while also conducting outreach to families. In some cases, this process is government-mandated, adding a further burden on staff.
As COVID-19 continues to severely impact senior care facilities, nursing staff continue to work diligently to prevent the spread of the virus.
How We Can Help
Our customers mean a lot to us, and the stress and strain they are currently under got us to thinking about how we can provide relief. To them, their residents, and their resident families.
So, in an effort to improve resident family outreach, Cliniconex has decided to make the urgent component of the Automated Care Messaging Solution available at no charge until June 30th, 2020.
Why Aren't We Charging You?
Now is not the time for budgetary concerns and long approval processes. Senior care homes need help, and they need it now. We believe our solution can save valuable time while also providing accurate and up-to-date information in moments.
Next Steps
For facilities with a PointClickCare EHR, please reach out to your representative or email sales@pointclickcare.com.
If you use any other EHR, please reach out directly to the Cliniconex team at sales@cliniconex.com.
Within a matter of days, our team will equip your facility with Cliniconex's Automated Care Messaging app so you can broadcast messages to your entire resident family community on an as-needed basis.