HQI makes patient surveying and health promotion easy.
Gain insight into your patient roster by using the data within your EMR to send targeted surveys and messages. Use the data you get back to build actionable Quality Improvement Plans.
Improve care and patient engagement
Send surveys to targeted demographics
Share health promotion information and resources with patients
Improve quality while containing cost
Measure outcomes against your peers
Patient information is kept private and secure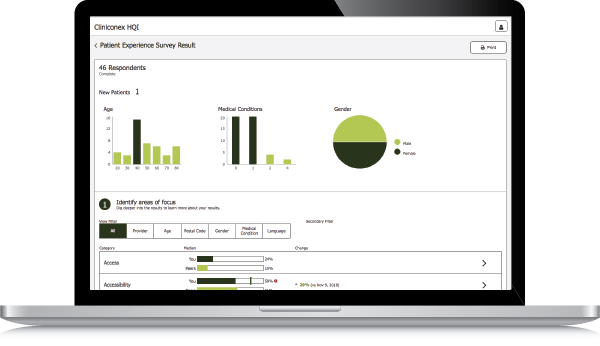 0
%
Higher response rates to surveys
0
%
Increased productivity of data analysts
See HQI in action with The Canadian Primary Care Information Network (CPIN).
Learn More About CPIN
EMR Integration
Thanks to its seamless integration into EMRs from leading vendors such as QHR Technologies and TELUS Health, HQI provides users with additional demographic data such as age, location, medical conditions, provider, gender and language; providing insights that wouldn't be possible without EMR integration.
Curated Messages
HQI comes pre-loaded with dozens of research-based surveys and curated health promotion messages developed in collaboration with University of Ottawa and Monfort Hospital researchers. The app also provides users with recommended online resources and contacts to assist while building their Quality Improvement Plans.
Autonomous Sampling
HQI's autonomous sampling engine is configured to adapt to your clinic's workflows and rules. Once configured, it will automatically collect patient data post-visit to ensure higher response rates and more accurate data.
Guides
HQI provides users with an interactive tool for building annual Quality Improvement Plans in the Ministry's standard format. The application also allows users to set goals and measure progress over time.
Templates
HQI allows you to export patient-facing as well as government-mandated reports with the click of a button (currently available in the HQO Workplan format).
Privacy Safeguards
HQI automatically de-identifies data at the earliest stages of collection to ensure patient information is private and secure. Any Personal Health Information collected is in accordance with the Personal Health Information Protection Act (PHIPA), Personal Information Protection and Electronic Documents Act (PIPEDA), Freedom of Information and Protection of Privacy Act (FIPPA) in Canada and the Health Insurance Portability and Accountability Act (HIPAA) of the United States of America.
We'd love to set up a live demo for your team!
Whether you have questions, want detailed pricing, or an in-depth live demo. We look forward to chatting with you!