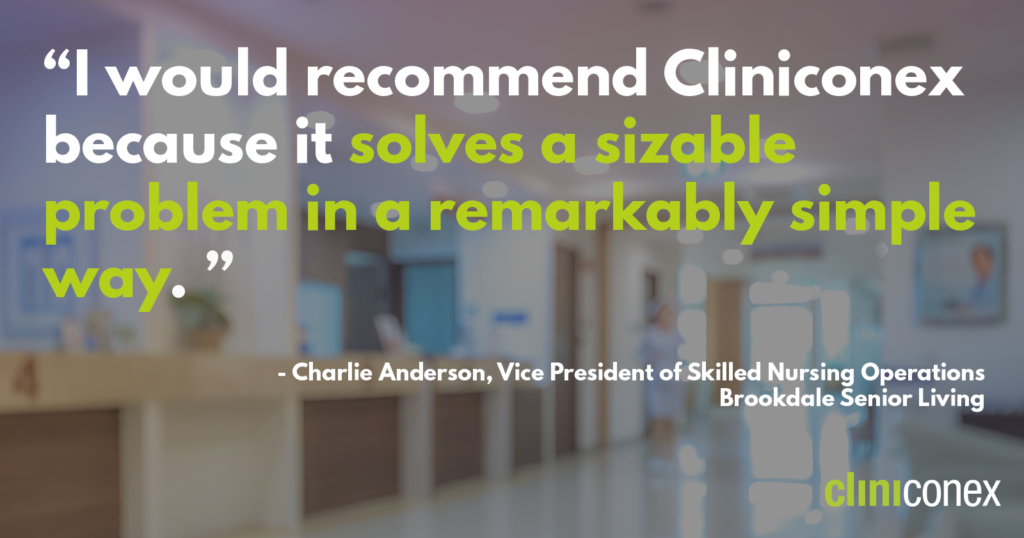 Brookdale Senior Living is the leading operator of senior living communities in the United States, and like everyone in the senior care industry, they have had to swiftly change and adapt to meet the needs of residents, families, and staff during the COVID-19 pandemic.
We spoke with Charlie Anderson, Vice President of Skilled Nursing Operations to better understand how they are using technology to communicate with residents, their families, and regulators during these trying times.
About Brookdale Senior Living
Tell us a little about yourself. What is your role within the Brookdale organization?
Brookdale Senior Living is a very large Assisted Living and Memory Care company, although not many people realize that we provide skilled nursing services.
I work with the skilled nursing teams in the field and oversee some components of the day-to-day operations of the skilled nursing centers. We have a diverse portfolio of 42 skilled nursing sites spread across a dozen or so states, consisting of roughly 2,500 beds. Some of our smallest centers have 30 beds while our largest center consists of 120 beds.
We have everything from a stand-alone skilled nursing center all the way to skilled nursing centers that are part of large Continuing Care Retirement Campuses (CCRC). The vast majority of these skilled nursing centers work in conjunction with assisted living, memory care, and sometimes independent living; sometimes under the same roof.
It's a very diverse portfolio, both geographically being spread across 12 states, and operationally, considering the different services that we support and that support us.
Manual Family Outreach
Before Cliniconex, how did Brookdale manage communication with resident families, and what were the challenges?
Before Cliniconex, we managed communications with residents and their families very manually. As with most post-acute businesses, the vast majority of our communications with family members were either by phone or through the mail. With residents, communication would be in person, but also with communications flyers distributed throughout the community.
Prior to Cliniconex, we were able to use email in some instances, but as you can imagine, some of our resident's families weren't comfortable and familiar with e-mail, so the vast majority of our communication was via phone and the mail. This took a great deal of time as it required individuals to make those one-on-one calls. To say it was manual is being kind. It was a very slow process prior to Cliniconex.
Why Cliniconex
Why did Brookdale decide to implement an automated family engagement tool and why did you choose Cliniconex?
During the COVID-19 pandemic, the Centers for Medicare and Medicaid Service (CMS) tasked care facilities with ensuring that notifications specific to the coronavirus pandemic went to family members and residents within a specific period of time. The initial impetus was spurred on by the state and federal governments.
We chose Cliniconex for multi-faceted reasons; initially, it was because of their relationship with PointClickCare. Brookdale utilizes PointClickCare for our medical records, so we also already had a partnership and relationship with them. Through that relationship, we were introduced to Cliniconex.
Ultimately though, why we decided to go with Cliniconex was the ease of use, a simple implementation process, it allowed us to disseminate very important information in a timely and efficient manner; and lastly, it was a very cost-effective tool for us to implement.
Has Cliniconex helped to maintain compliance with these new regulations?
Cliniconex has certainly helped us remain compliant with the new regulations. We have very specific parameters that notifications must be sent to residents and their families within a specific time frame. Without Cliniconex, it would be very challenging to meet those time frames.
For example, in certain instances, we have to notify resident family members before 5 pm the following business day. A situation could arise where we have less than 24 hours to reach dozens and dozens of family members. With our previous method of manual phone calls, it would be almost impossible to do that.
Do you see use cases for Cliniconex past COVID-19? How do you expect facilities could make use of the tool?
The primary reason we implemented Clinconex was in response to an emergency situation, so thus far we have only utilized the solution for notifications specific to COVID-19. However, I do foresee being able to utilize Cliniconex for a variety of different reasons. There are many things we need to communicate to family members; anything from resident activities, resident outings, resident engagements, to meetings that we need resident family members to participate in; care plan meetings, meetings with physicians etc. There are almost unlimited ways Cliniconex can be used to communicate with resident family members
Implementing Cliniconex
Tell us about the implementation and onboarding process. Was it easy to deploy? How does your staff feel about the tool? Is it easy to use?
The implementation process for Cliniconex was laughably simple. I am naturally a skeptic, so from the outset, I was not completely sold that it would be as simple as we were told it was going to be. From the initial phone call to full implementation was three weeks or less, which is incredibly fast. From our perspective, it was a very short, easy training session with Cliniconex, the caller ID set-up process required maybe 30 minutes to make sure everything was set up on the Brookdale side.
The implementation was remarkably simple, and the utilization of the tool has been just as easy. It's literally a few clicks and the work is done! We were able to set up a variety of different templates for the operators to choose from, and from there it's a matter of deciding when you need to send out a communication – in one or two clicks and it's done.
The Impact On Brookdale's Skilled Nursing Facilities
How has Cliniconex impacted the Brookdale team? Has it affected day-to-day operations?
The feedback has been 100% positive. I'm a nursing home administrator by trade and have been in operations my entire career, the feedback that I'm getting from other facility administrators is all positive. They are pleased with the ease of use, with the speed, with the ability to track communications because once a call, text, or email has been sent it's automatically logged in the patient's record. 
Not only are they able to ensure that the necessary notifications are being made, but they are also easily able to track and document each outreach to ensure we've covered the entire spectrum of what our responsibilities are to the residents, their families, and the regulator.
Have resident families embraced the tool? Do you have any direct feedback?
Primarily, they are glad to receive communication. During this pandemic, nursing homes across the nation have had to take a restrictive position; visitation has been limited, resident engagement with family members has been limited. The resident families are pleased that they are receiving communications, and they are pleased with the frequency of notifications, while the flexibility of choosing whether they are contacted via phone call, text, or email is appreciated.
Has knowing that they will be communicated with proactively alleviated stress for resident families?
Absolutely. I hope the communications have eased the anxiety residents and their families are feeling during this time. Everybody, whether you're involved with a skilled nursing center, or any other industry, everyone desires information right now. This has been a frightening time for all of us. My hope is that communicating frequently and clearly with family members in some way helps ease the anxiety of having a loved one in a nursing home and not being able to interact with them as often as they would like.
Can you speak a little bit about the number of hours Cliniconex saves your care teams?
We have 2,000 residents, and in a worst-case scenario, we might need to communicate something to every family member on a given day. Regardless of how many hours are saved, any amount of time that we can save in making phone calls or sending emails goes directly back to providing patient care and taking care of the critical services at the nursing home. Whether it's a few minutes or several hours, it's time that will be spent doing something more vital than typing an email or making a series of phone calls.
What You Want Others To Know
If you had to explain the Cliniconex solution to a colleague from another organization how would you go about it?
Cliniconex allows us to both maintain regulatory compliance by sending the necessary notifications and communications to residents and families in a super-efficient, very simple format. It allows us to send those notifications – which would normally take dozens, if not hundreds of man-hours – in seconds.
Most importantly, during emergency crisis situations where communication may be challenged, it allows us to get information into the hands of the residents and family members, to provide information as to what is going on, to lessen anxiety, and keep those channels of communication open as best as we possibly can.
I would recommend Cliniconex because it solves a sizable problem in a remarkably simple way. They took a big problem and made an easy answer.

– Charlie Anderson
Why should an organization keep Cliniconex past COVID-19?
I think anyone would want to keep Cliniconex past the COVID-19 pandemic because of this: for anyone that is moving a loved one into a skilled nursing center; whether that is for a short term rehabilitation stay, or if it's for long-term care, it is a huge leap of faith for anyone to consider and follow through with.
Cliniconex allows us to stay in contact and allows the residents and family members to stay in contact with the facility in a very simple manner. We want to make that connection stronger and will do anything we can to bridge the gaps a family member has when deciding to trust a skilled nursing facility. I am hopeful Cliniconex will ease the burden that family members feel when they are making that decision.