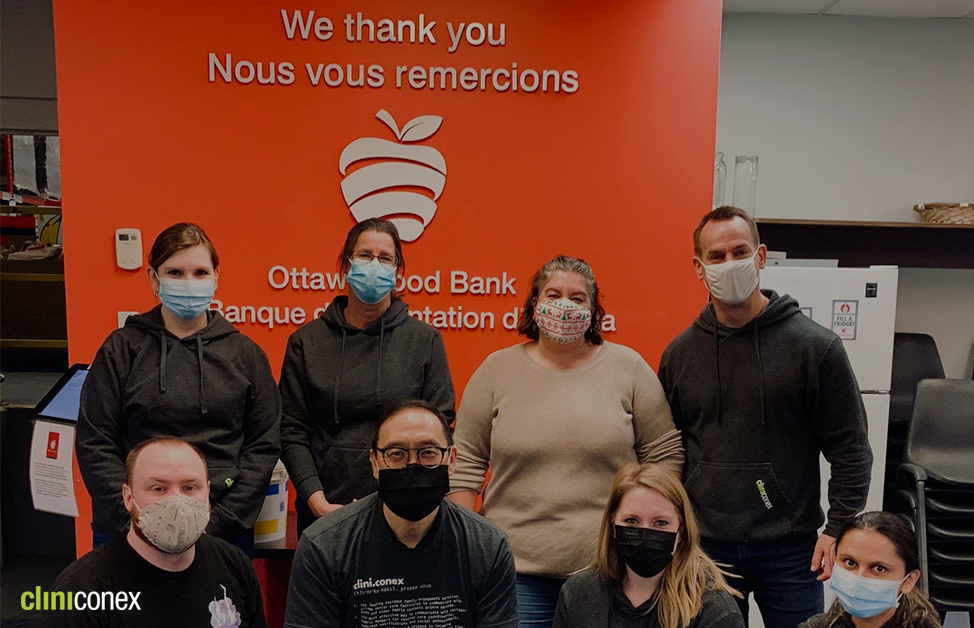 What a year. While 2020 was a wild ride, there was nothing dull about 2021. People got vaccinated against COVID-19, borders around the world opened, Tokyo held the (2020) summer Olympics, and Adele (finally!!) released a new album.
With the end of the year in sight, we decided to switch up how we normally run our Quarterly Donation Program; this time around Cliniconex donated not just monetarily to a local charity, but with our time.
Out of office: Volunteering with The Ottawa Food Bank
The first-ever winner of Cliniconex's Quarterly Donation program in December 2020 was The Ottawa Food Bank, so it was only fitting that the Friday before Christmas, some of our team members spent a morning sorting food at their warehouse. For a company that prides itself on software that creates efficiencies, we'd like to think our team was rather effective at each finding a role to play and mastering it before the morning was over. From unpacking donations to sorting non-perishables to packing and stacking the full boxes. And the boxes. We built quite a lot. We are now pros with a tape gun.
The Ottawa Food Bank is helping the National Capital Region get beyond hunger by providing emergency food relief to people in need. They do this by improving access to healthy food, continuously growing and innovating the food bank network and participating in social change.
As food insecurity has increased over the course of the pandemic, we encourage you to find a food bank or programme in your community; and to get involved with purchasing, growing, collecting, sorting or delivering food. Our team will definitely be back again.
Making spirits bright: Supporting families in need
The holidays can be a tough time, and the pandemic will once again make this year's festivities harder for some families. The Salvation Army's Family Christmas Sponsorship Program aims to help those who are dealing with food insecurity, homelessness, unemployment and mental health issues by providing hampers of food and gifts to help make Christmas merry and bright. Cliniconex's donation will help four families in the community so children wake up knowing Santa stopped by while they were asleep, while also providing a nutritious meal after all the presents are opened.
As we celebrate our second Christmas of the pandemic, we wish you all a healthy and restful holiday and a joyful new year.