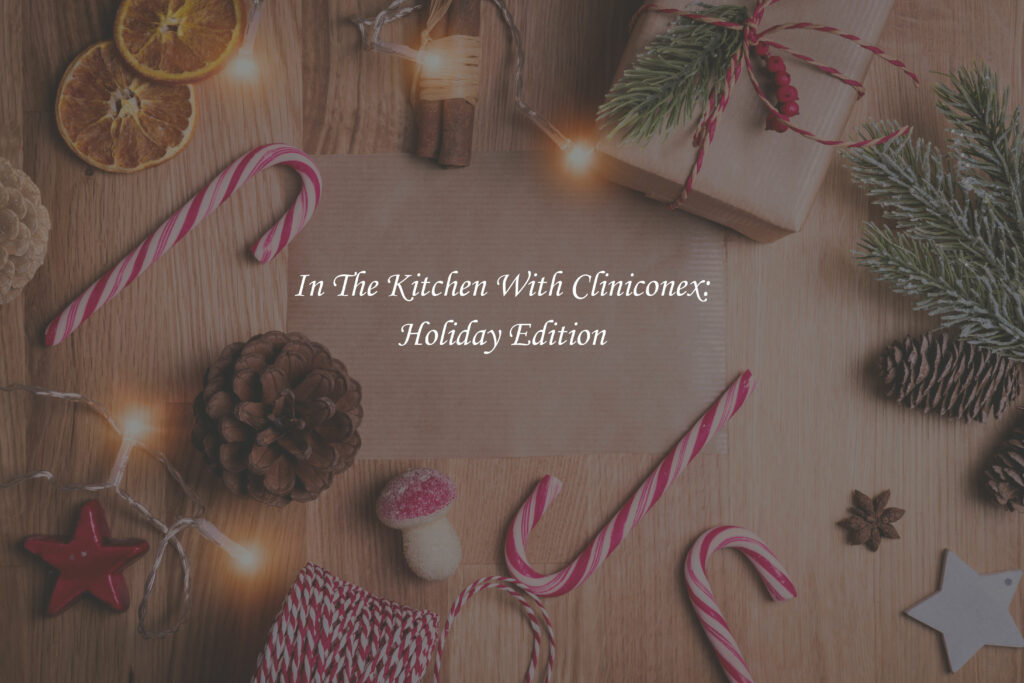 Everyone celebrates the holidays differently, with traditions reflecting religion, culture and long-standing family customs. One common thread between celebrations is gathering together – usually over food. So, whether you prefer sweet or savoury, nutritious or delicious, here are some of the recipes our team members will be preparing over the holidays. From our kitchens to yours: Bon Appetit!
Sweets
Shortbread Cookies
From the kitchen of: Marnie, Client Success Specialist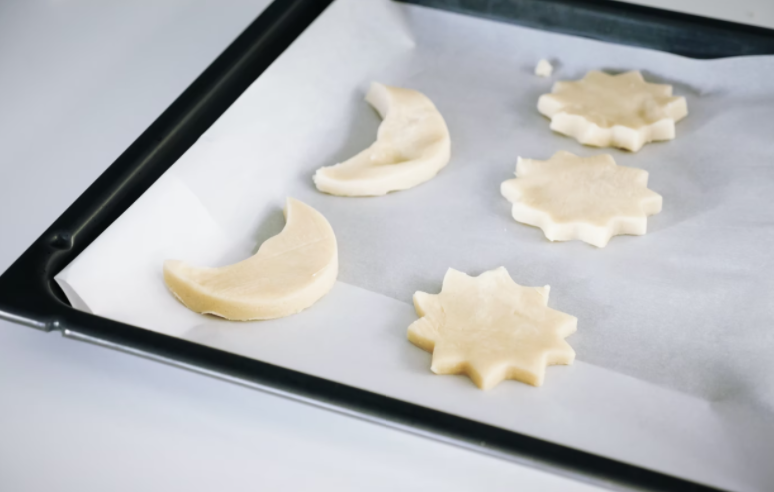 Ingredients
½ cup corn starch
½ cup icing sugar
1 cup all-purpose flour
¾ cup softened butter
Makes about 24 cookies
Instructions
Sift together corn starch, icing sugar and flour
With wooden spoon, blend in butter until soft, smooth dough forms
Shape into 1 inch blass
If dough is too soft to handle, cover and chill for 30 – 60 minutes
Place 1 ½ inches apart on an ungreased cookie sheet and flatten with a lightly floured fork
Alternatively, roll dough to ¼ inch and cut into shapes with cookie cutters
Decorate with candied cherries, coloured sprinkles or nuts if desired.
Bake in a 300 degree F (150 C) oven for 15-20 minutes or until edges are lightly browned
Cool on a wire rack
Mars Bars Squares
From the kitchen of: Angela, Director, Product and Channel Marketing
Ingredients
4 Mars Bars
2 tbsp butter
2 cups rice Krispies
1 package chocolate chips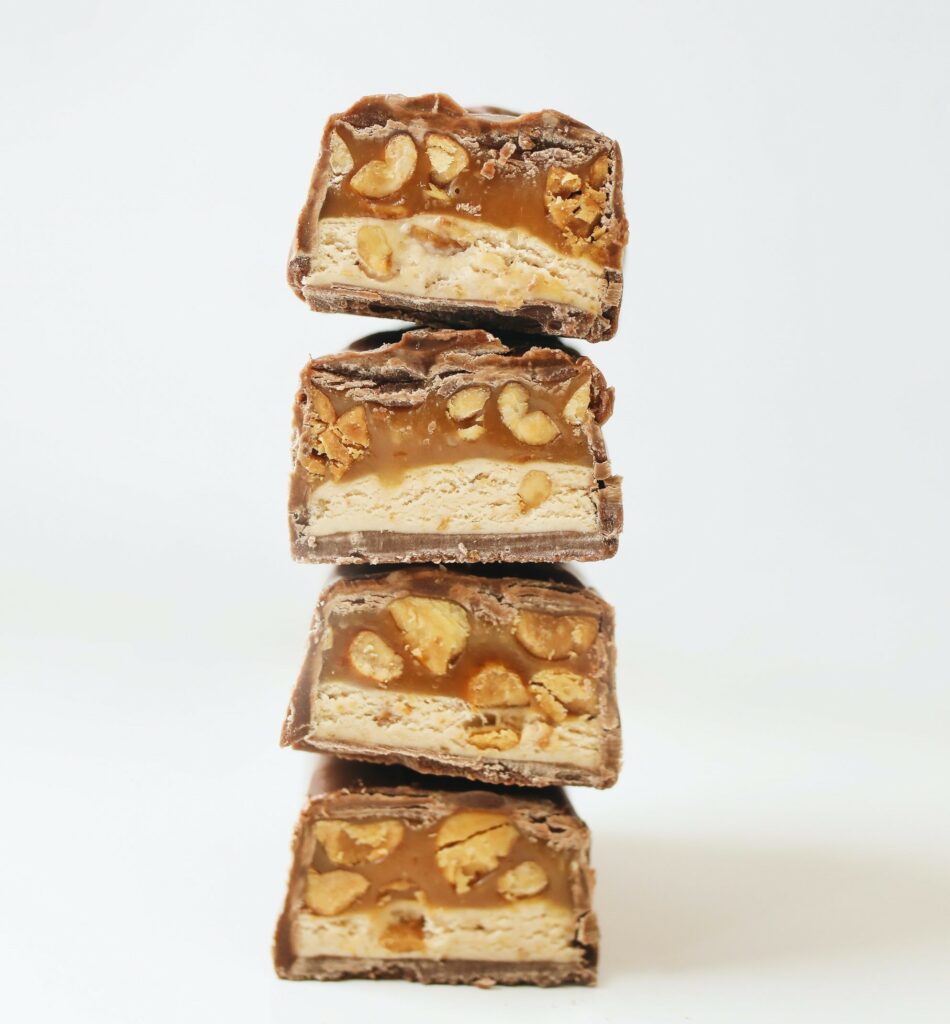 Instructions
Cut up a pack of 4 Mars Bars into 1/2′ squares
Add 2 tbsp of butter and melt in microwave for 2 min
Add melted bars into mixing bowl with 2 cups of rice Krispies and mix well
Grease 9-inch baking dish with butter and spread rice Krispies evenly in dish
Melt 1 pack of milk chocolate chips in microwave for 2 minutes
Pour and spread melted chocolate evenly of rice Krispies
Set in fridge for a few hours and then cut into squares
Gingersnaps
From the kitchen of: Kristi, Digital Marketing Specialist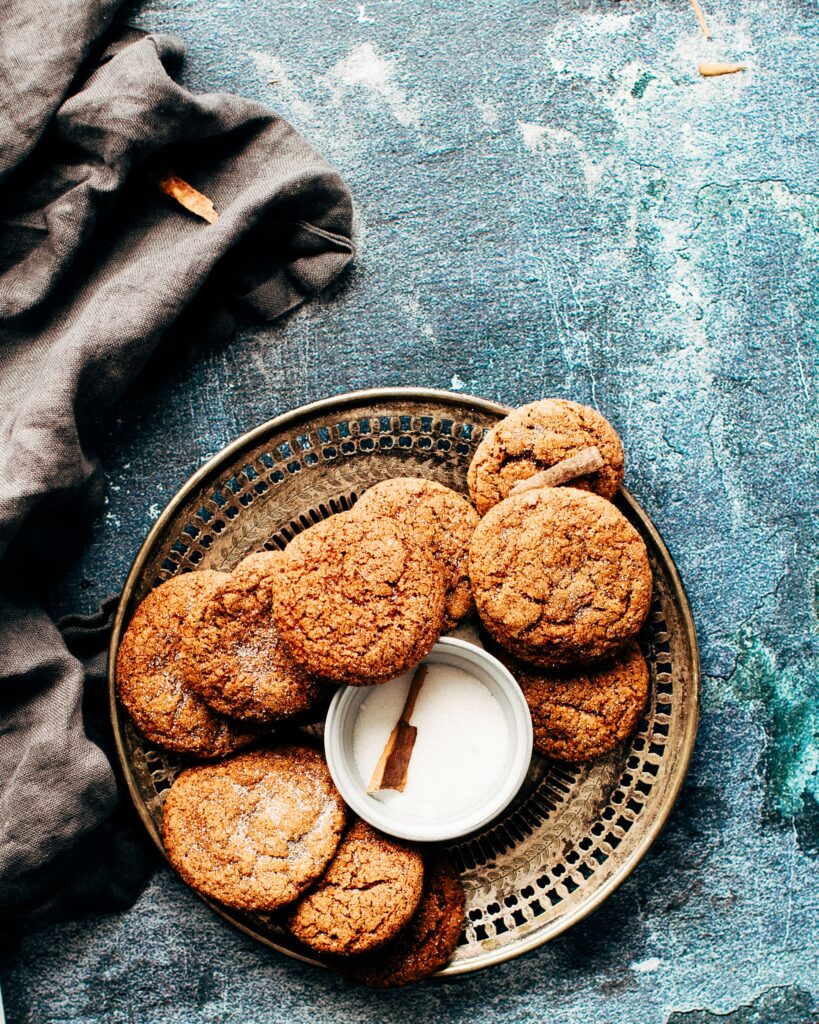 Ingredients
¾ C butter
½ C brown sugar
½ C white sugar
¼ C molasses
1 egg
½ tsp vanilla extract
2 C flour
½ tsp baking soda
¼ tsp salt
1 ½ tsp cinnamon
2 tsp ginger
¼ tsp cloves
Instructions
Heat oven to 350 degrees celsius
Cream butter and sugar until fluffy
Add molasses, egg and vanilla and beat until blended
In a separate bowl mix flour, baking soda and spices
Add to butter mixture in 3 parts until well combined
Cover and chill for 30 minutes
Cover baking sheet in parchment paper
Roll dough into 1 inch balls and roll in cinnamon-sugar mixture to coat
Place on baking sheet 2 inches apart and flatten slightly with a glass
Bake 12-15 minutes until cookies are dry on top
Cool on wire rack
Savory
Creamy garlic parmesan brussels sprouts with bacon
From the kitchen of: Jake, Software Developer
Ingredients
10 ounces (300 g) bacon, cut into strips
2 tablespoons butter
2 pounds (1 kg) Brussel sprouts, washed, (trim bottoms and cut sprouts in half)
Salt and pepper to season
5 cloves garlic finely chopped
1 1/2 cups (400 ml) light or heavy cream
1 1/2 teaspoons cornstarch mixed with 1 tablespoon water (optional)
1/3 cup fresh shredded or grated mozzarella
1/4 cup fresh shredded or grated parmesan cheese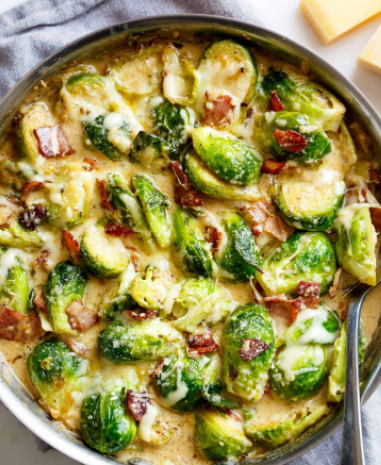 Instructions
Preheat oven to 375°F | 190°C.
Fry bacon in a large oven-safe skillet over medium heat until crispy
Use a slotted spoon to transfer to a paper towel-lined plate to soak up some of the oil. Set aside
Drain most of the bacon fat from the pan, leaving about 1-2 tbsp for added flavour
In the same pan, melt the butter, then add the Brussels sprouts. Season with salt and pepper.
Scrape up any browned bits from the bottom of the pan, and cook while stirring occasionally, for about 6 minutes. The edges should start crisping and slightly charring.
Add in the garlic and stir it through the sprouts for a minute, until fragrant.
Pour in the cream, reduce heat down to low and allow them to simmer until tender (another 3-4 minutes)
If the cream is too thin for your liking, add in the cornstarch slurry, stirring it through immediately, until combined
Add the bacon in and give everything a good mix to combine all of the flavours together.
Top the sprouts with mozzarella and parmesan
Bake until cheese is bubbly and sprouts are done to your liking (about 15 minutes).
If you like your cheese browned, change oven settings to broil for 2-3 minutes, until golden
Classic Nigerian Salad
From the kitchen of: Adeola, Technical Support Specialist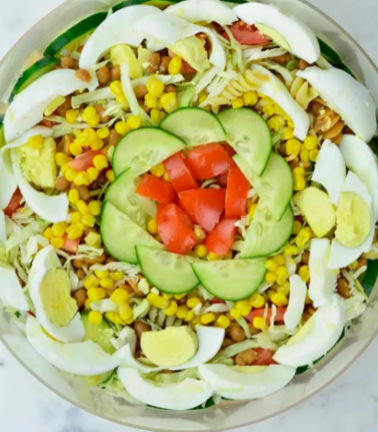 Ingredients
2 carrots
2 C shredded lettuce
2 C shredded cabbage
2 ripe tomatoes
1 C pasta or boiled potatoes
2 boiled eggs
1 medium cucumber
8 oz. baked brie
8 oz. sweet corn
8 Tbsp Heniz English salad cream
Instructions
Boil the eggs
Boil the pasta to al dente
Shred lettuce and cabbage
Cube tomatoes
Grate carrots or cut into cubes
Cube cucumber
Combine all ingredients in a bowl (excpet the eggs) and toss with dressing
Cover it with a plastic wrap or tight-fitting lid and place in the fridge for at least 1 hour
Remove it from fridge when you are ready to use and toss. Top with cut boiled eggs