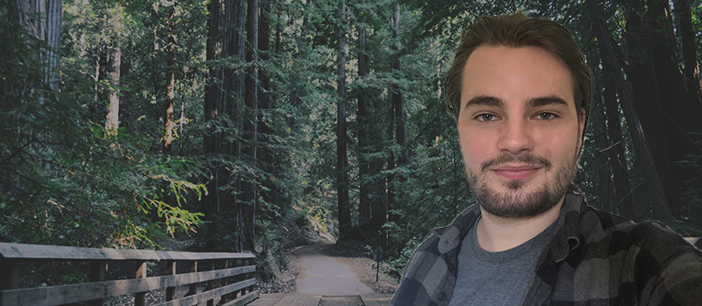 With Labour Day weekend over and fall just around the corner, we're looking back on how the summer portion of student Thomas' co-op went. We chatted with him back in May about what he hoped to accomplish during his first co-op term with our development team. With summer coming to a close, Thomas shares what he's learned so far and what he's excited to get started on for his fall term with us!
What was the most rewarding thing about working with the Cliniconex team this summer?
Working with everyone at Cliniconex has shown me that office jobs aren't terrible! You see in movies and on TV that offices are horrible and grey and everyones' miserable – but no! It's been great! Everyone is so friendly.
From the development perspective; my coding skills have improved along with my methods of thinking and how I approach problems and present my solutions.
What was the most challenging thing about working at Cliniconex during your first co-op term?
Getting used to everything. It's an entirely different standard and workflow from being in school. In school, projects are mostly focused on "does it work?", whereas at Cliniconex quality is the main factor driving outcomes.
Going through everything with a fine-toothed comb and making sure everything meets standards was my biggest learning curve so far.
Tell us about any new skills, techniques, and knowledge you gained this summer.
Generally, I learned how to make clean code. Specifically, I've gained experience in programming wrappers for third-party APIs, most notably with Salesforce. Standard object manipulation and so on.
I think that one of the biggest things I've become more comfortable working with are HTTP requests and responses and parsing JSON data.
What was a time that you felt proud during your internship?
I feel proud of all the work I've done, to be honest. There isn't a colossal coding achievement yet!
I am very proud of a big issue I was given to fix. Rather than using the solution given to me, I suggested another long-term fix, my supervisor liked it and I implemented that instead.
What is the greatest lesson you've learned this summer?
Definitely just not to rush things. I was getting frustrated when things were taking a long time. I eventually realized that the focus is on making something right the first time rather than making half the product and fixing it as we go.
Do you have any words of advice for any future Cliniconex interns?
Honestly, I felt comfortable within a week of being here. There are so many resources here who truly want to help you. So for anyone else considering a co-op term, even if it seems daunting at first, you will feel at ease fairly quickly and you'll have a supportive team to help you.
I feel really at home at Cliniconex and that I'm not just a co-op student but an employee – and I really value that.
What are you most excited about your remaining co-op terms with Cliniconex?
I'm looking forward to taking over (fellow summer student) Tiare's project regarding the Salesforce synchronization project. I'm really motivated to get the big tasks done. There are a lot of really interesting deliverables I'm excited to complete and get up and running.
What (non-work-related thing) was the highlight of your summer?
I'm going to be honest, I have been very focused on work because I was so excited to start my co-op term.
I did go to the casino for the first time though! (writer's note: yes, he did win something)
Up next: Another term with Cliniconex
We are excited for Thomas to continue his remaining co-op terms with us and look forward to his continued contributions to our development team! We have a lot of big things planned and are glad he will be with us to get them launched!