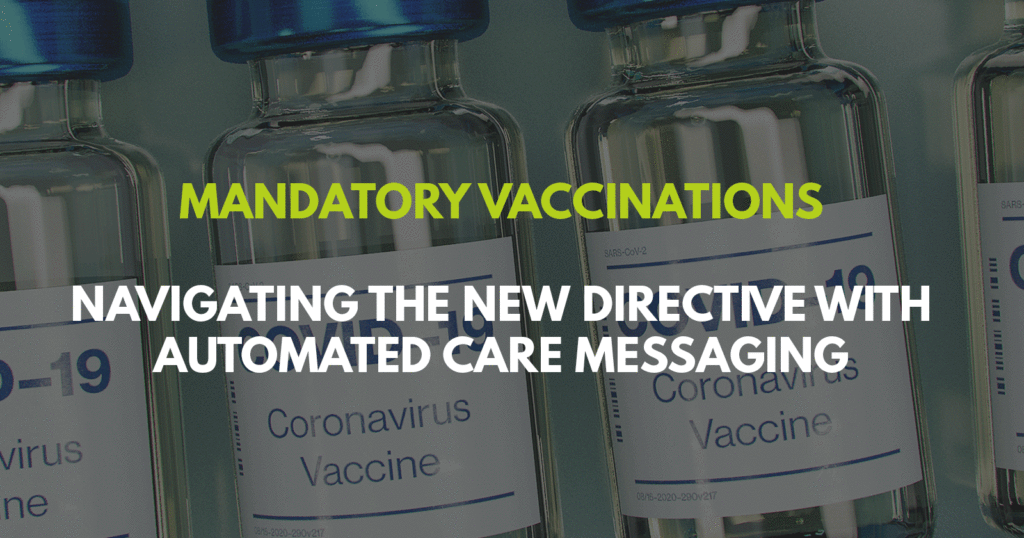 On August 18th, it was announced by the United States federal government that all staff of Skilled Nursing and Assisted Living facilities will be required to be vaccinated to continue working or facilities risk losing their funding from Medicaid and Medicare. The mandatory vaccination mandate goes into effect on November 1st, and with senior care facilities already facing staff shortages as the fourth wave of the pandemic picks up, this new legislation adds an additional challenge for those working in senior care.
As always, the goal of Cliniconex is to support those in our community and to make this latest hurdle as easy to get over as possible. Here's how the Staff Add-on for Automated Care Messaging can help streamline coordination and communication efforts with your staff so you can remain compliant and focus on your residents.
The race to vaccinate: A step by step guide to using ACM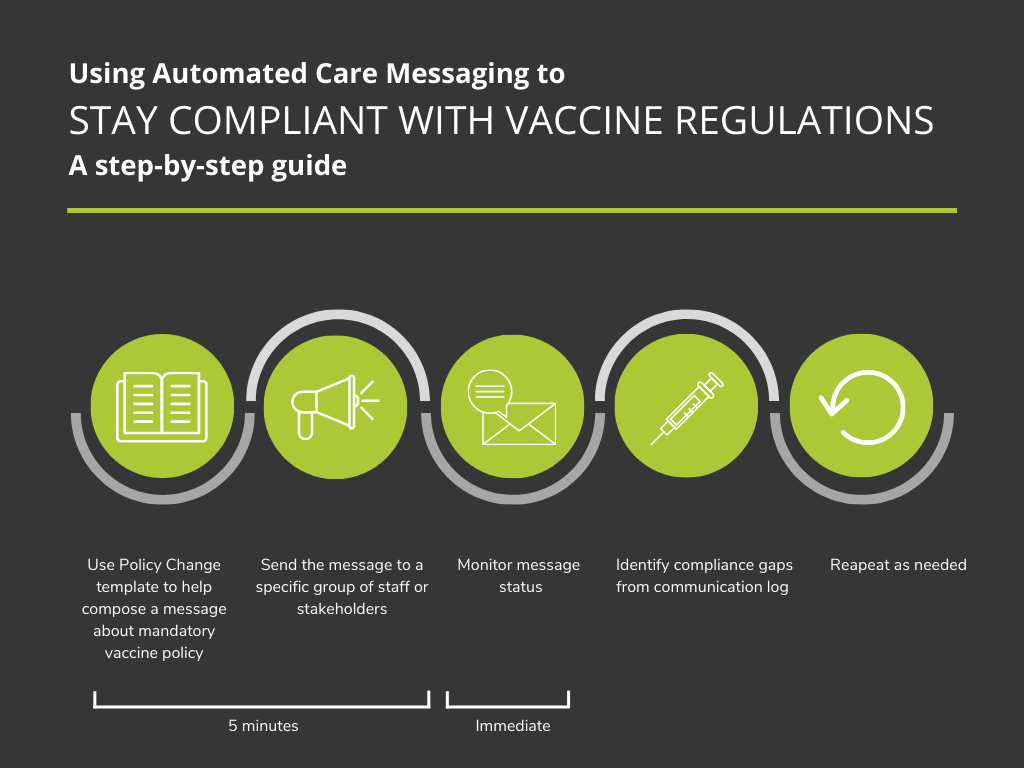 If necessary, re-upload your Staff contact spreadsheet with any new custom filters you may need. We suggest adding columns for "Fully Vaccinated", "One Dose" "Unvaccinated".
In the Help Centre, navigate to the Template Library, For Staff | Routine Outreach, choose from the Policy Change notice template or in Staff | COVID- 19, use the templates we have created specifically about the COVID-19 Vaccine Mandate to help you reach your staff. Customize the message to meet your needs.
Send to all staff and stakeholders, or a targeted subsection.
Use the automatic communication logs to monitor responses.
Use the communication logs alongside the specific audience you targeted to identify any gaps in meeting the vaccine compliance requirements.
Repeat the process as needed by refining your target audience.
Whether it's every day or every week, the Automated Care Messaging Staff Add-on allows administrators to reach who they need to, as often as they need to, with a standardized message ensuring you get your staff fully vaccinated by the deadline.
Don't have a vaccination program? Tips to help you get started
With shift work, staff shortages, potential testing and quarantine measures, and various vaccine statuses' to navigate, putting a cohesive vaccination plan into place can be daunting. With a final push to get staff vaccinated, and as the need for booster shots may arise in the coming months, here are a few ways to make the process easy.
Consider offering on-site vaccines. If your facility hasn't held one before and you don't know whether you have the correct permissions, refer to the CDC's guide to preliminary steps.
If off-site vaccinations are the route taken, incentives may help encourage staff to book their appointment as soon as possible. Some ideas include:

Free transportation to and from their appointment
Swag! Little gestures go a long way, whether it's a gift card for a coffee or a team lunch at work!

Keep lines of communication open with your staff, residents and their families. If you need help answering questions, the CDC's FAQs for Long-Term Care is a great resource.
We understand this is a stressful time. The Cliniconex team is always here to help. If you have questions about how we can support you, please reach out.