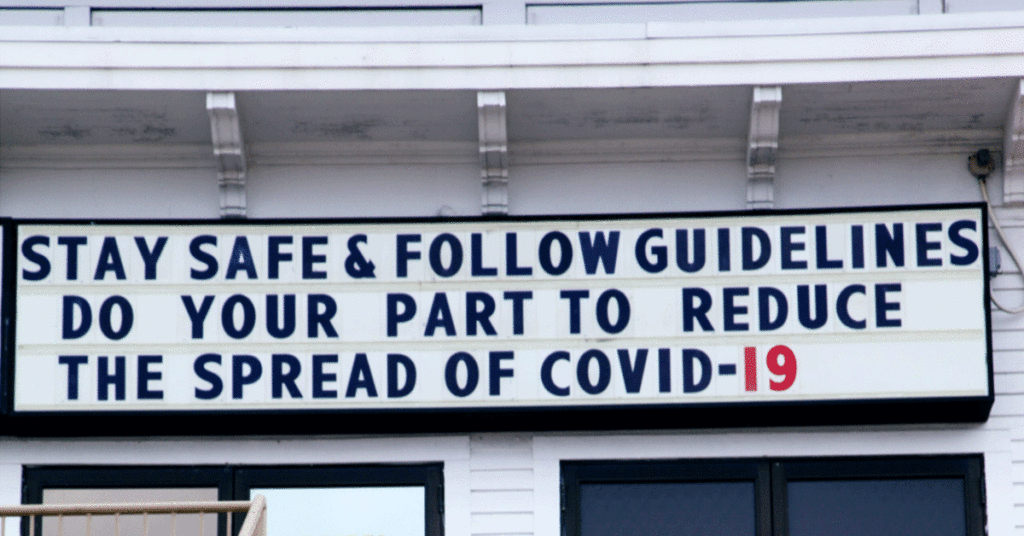 It was on March 14th that The Centers for Medicare and Medicaid (CMS) ordered the end to all in-person visits at senior care facilities across the country. In September, after six months of lockdown, outbreaks, and isolation, senior care homes could finally welcome visitors – sort of. CMS has released a new memo outlining ways homes can safely facilitate in-person visits to better meet the psychosocial needs of residents. From indoor and outdoor visitation, to core principles and best practices, here are the top 6 things you need to know to stay compliant with the new CMS guidelines.
1. Visits: A New CMS Requirement
Reuniting residents with their friends and family is not only good for mental health reasons, it's actually mandated. If your facility has had no positive COVID-19 cases in the past 14 days and county positivity rates are low to medium, a home must find a way to facilitate in-person visits while keeping within local health and safety guidelines.
Should administrators think staying at a distance is best – think again. Homes found to be not in compliance (without a suitable reason) can be subject to enforcement actions such as citations and civil money penalties.
2. In or Out?
When possible, outdoor visits are preferred; but with the onset of cooler temperatures and unpredictable weather, indoor visits are becoming more necessary. In which case, proper screening and infection control measures should be maintained. Facilities should also
Limit the number of visitors per resident and in the facility as a while (based on the size of the building and physical space).
Limit movement in the facility. Provide specific visitation areas to set and manage expectations; and
Consider scheduling visits for a specified length of time to help ensure all residents are able to receive visitors
3. Visitors: To Test Or Not To Test?
It's up to the discretion of the facility, but if your county has high positivity rates and has regular (ie weekly) visitors, you can either test the visitors yourself, or require they get tested and display a negative result before entering the facility.
4. Compassionate Care Visits: What Exactly Are They?
While originally intended for end-of-life visits, this is now an umbrella term to include:
A resident who has newly moved into a senior care facility and is finding the transition to living without family challenging
A resident who is grieving after a friend or family member recently passed away
A resident who previously received help with eating and drinking by a caregiver, and who is continuing to experience weight loss or dehydration
A resident who is experiencing mental or emotional distress due to the lack of social interaction caused by the pandemic
5. Communal Dining and Activities
To make sure your residents are able to socialize with fellow residents, communal dining and activities are essential to the mental well being of those in senior care. As long as residents are negative for the virus (and social distancing is maintained) activities such as exercise classes, book clubs, movie and game nights are encouraged.
6. CMP Funds: How They Can Help You Facilitate Visits
We've all become used to virtual visits and video chats in 2020, and CMS has recognized the positive impact technology can have in helping residents maintain relationships with family and friends. To help you keep your residents connected, CMP funds can be used to purchase items such as tablets or webcams to help seniors stay connected. Each facility has $3000 with which to purchase one communications device per 7-10 residents. If you live in an area where outdoor visits are possible for a longer period of time, these funds can help your facility to purchase tents or dividers.
Educating Families And Coordinating Visits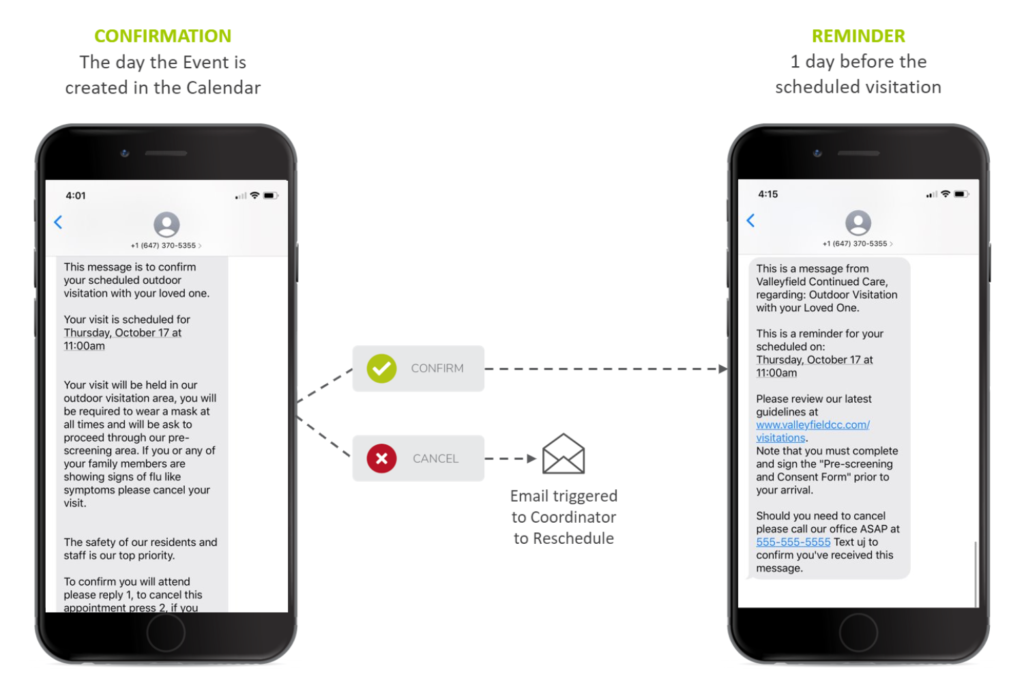 As rules and restrictions are constantly changing, the onus is on senior care administrators to distill up-to-date information and educate staff, residents, and visitors. Clear communication is the first step in coordinating safe and successful visitations.
If your facility uses PointClickCare's Resident Event Calendar, simply schedule visits for each resident, then let the Routine component of Cliniconex's Automated Care Messaging automatically send reminders to families with the visitation instructions specific to your facility.
Proactive communication ensures families arrive prepared and fully aware of the rules and regulations they must adhere to while visiting their loved one. They can even pre-fill consent and screening forms, leaving more time to catch up with their family members once at the home.
As always, the standard infection control measures of screening of staff, residents, and visitors is encouraged; along with proper hand hygiene, use of PPE, the disinfection of high touch surfaces, social distancing, and the wearing of masks. Together, these methods can work in concert to keep residents, visitors, and staff safe, and ensure that senior care facilities remain open to visitors.