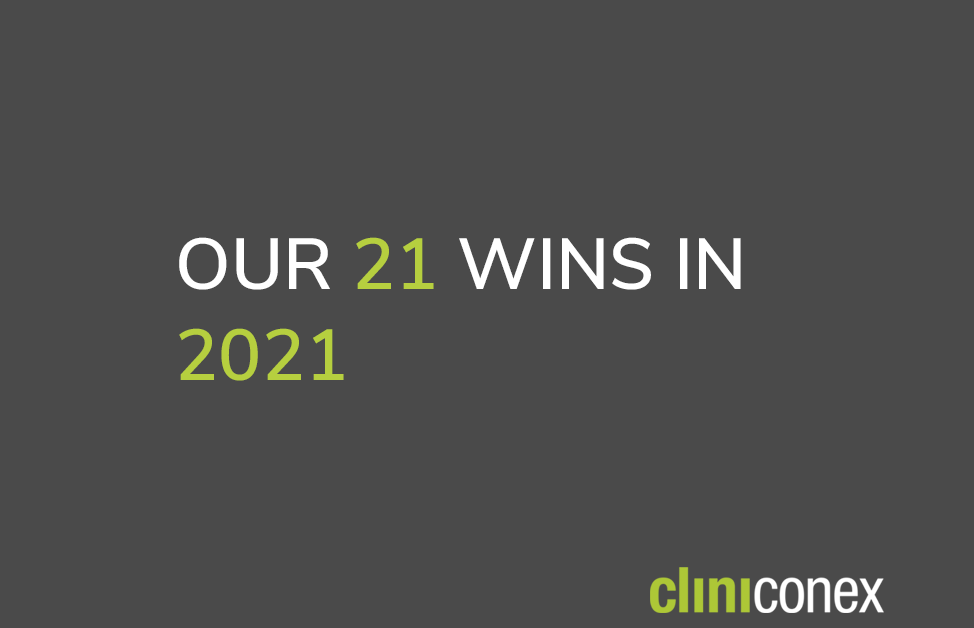 The past year was another rollercoaster; with lockdowns, vaccines, new variants and booster shots being just a few of the peaks and valleys we collectively experienced. As the new year begins, we took a look back at all that happened in 2021 and found quite a few bright spots and achievements of which to be proud. Here are Cliniconex's 21 wins in 2021:
Over 2,000 senior care homes across North America and the United Kingdom now use Automated Care Messaging.
Grew our team with 3 new members (2 employees and a new baby).
Released our template library on our Help Center to help our users be better prepared for any scenario.
Reached over 2,572 people with our webinars.
Our United Kingdom team secured their first-ever partnership with Person Centred Software's Mobile Care Monitoring.
Launched our monthly newsletter, CliniConnexions for our Automated Care Messaging users.
Released 3 new features for Automated Care Messaging (Blackout override, priority send, communication methods and resident contact filters)
Donated over $4,000 to local charities and programs through our Quarterly Donation Program. We also spent a morning volunteering with the Ottawa Food Bank.
Our UK team raised £712 for The Alzheimers Society with #SwimForDementia.
Launched a new website that better helps our current and prospective customers understand how automation can save them time and resources.
Resolved more than 4,500 customer-related technical support requests as the needs of our clients were ever-changing to react to the pandemic.
Launched the Staff Add-on for Automated Care Messaging to help streamline staff and stakeholder communication and coordination in senior care homes.
Gave 355 demos in 365 days.
Set aside dedicated time every two weeks for staff learning and development.
Won an eHealthcare Leadership Award for "Best COVID-19 Pandemic Related Communications" in recognition of our No Charge offer for Automated Care Messaging in early 2020.
Returned over 1 million hours to care.
ACM Urgent and Staff helped in the effort to get those in senior care vaccinated by getting clinic information out quickly and reliably
Published our first UK case study focusing on how a care group in Scotland uses Automated Care Messaging across their 5 facilities. The time saved by having all communications automatically logged and ready for audit has been invaluable.
Our UK team joined three leading membership organizations, TSA, National Care Forum and the NHS Clinical Leaders Network.
Automated Care Messaging remained one of our partners, PointClickCare's top products, confirming the value it brings senior care operators both large and small.
Collaborated with hundreds of medical clinics across Canada to adapt their workflows as they transitioned from virtual to in-person or hybrid care models.
In 2022, we are looking forward to growing! Growing our products and their features to better help our customers automate simple tasks and increase their ability to effectively communicate with their care communities, growing our team to help support our customers while continuing to innovate the tools they use, and growing our capacity to help care teams streamline communication, coordination and collaboration.