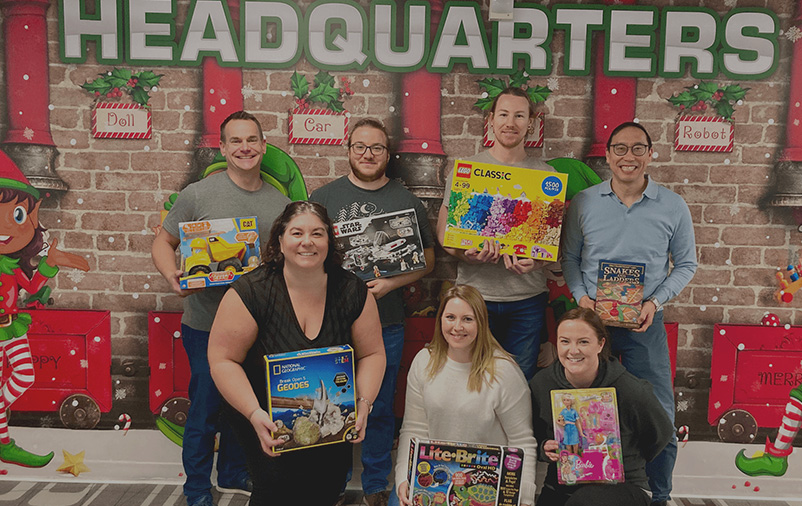 The holidays are fast approaching, and our team is getting into the festive spirit during our holiday edition of Cliniconex Gives Back, our quarterly donation and volunteer program.
This is our third Christmas engaging in our community, and this year we made a financial donation and volunteered our time with Toy Mountain Ottawa.
Toy Mountain 2022
Each December, the goal of Toy Mountain is to ensure every child has a gift to open on Christmas morning. The organization reaches over 25, 000 kids in the National Capital Region.
There are a few ways to donate and get involved. Either:
Purchase a toy for a child aged 0-12 and place it (unwrapped) in an official Toy Mountain donation bin before Friday, December 16th. You can find the location nearest you here.

Hint: they really need toys for 0-1 years, 1-2 years, 8-10 years and 10-12 years.

If your workplace is interested in participating, become a part of the At Work Santa program and encourage your colleagues to bring in unwrapped toys.
If you don't live in Ottawa, find participating cities here.
How to receive toys
To receive toys for your children, simply dial 2-1-1. They will instruct you as to the best place to register or direct you to a Community Resource Centre.
Our Day Volunteering With Toy Mountain
For three hours one morning, a group from our team unloaded, sorted and packaged toys at the Toy Mountain warehouse. With Christmas music setting a festive mood, we did our small part to make sure kids in Ottawa will have a merry Christmas morning.
We thoroughly enjoyed working with the other volunteers as well as with the Toy Mountain staff and were shocked at how quickly the time flew by. At the end of the morning, our volunteer coordinator encouraged us to find a toy or game that reminded us of our younger selves. Not surprisingly – the technology company employees all chose rather STEM-focused toys. I guess we haven't changed much!
We hope the kids and families who receive presents enjoy opening them as much as we did getting them ready.
To get involved with Toy Mountain by contributing either financially or with your time, learn more here.