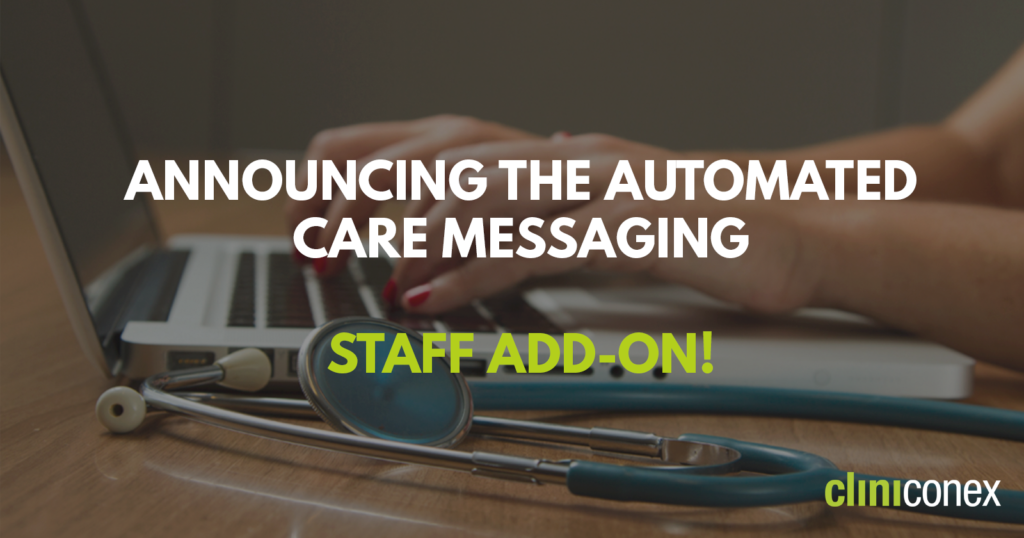 If there's one thing the COVID-19 pandemic has taught us, it is the extreme importance of constant, clear, communication. Here at Cliniconex, we've spent the last 10 years focused on building a healthcare-focused care coordination platform that has been tailored to fit the specific needs of senior care homes.
Since the pandemic began, we have helped more than 1,500 senior care facilities across North America improve communication with their resident families by initiating more than 6 million messages. Today, we are proud to announce the release of our new Automated Care Messaging for Staff Add-on to help communities improve communication and coordination with staff and other key stakeholders.
When enabled, this add-on solution allows users to send targeted messages to staff and others via voice, text or email in a matter of seconds. Recipients can be targeted by facility, department, position, shift and up to six other custom filters such, employee type, union status, latest COVID test and more.
Spotlight on Symphony Care Network: Improving Internal Communication
Over the last 11 months, several pilot customers have been testing this add-on; most notably Symphony Care Network, one of the most innovative providers of post-acute care in the United States who operates over 30 facilities across the Midwest. Symphony is home to over 4,600 residents and employs more than 4,500 staff members. Through seamless integration with Symphony's Kronos Workforce Management Solution, contact information is automatically kept up-to-date in the Automated Care Messaging application.
"The daily life of our administrators and nursing staff was picking up a phone and calling numbers off a spreadsheet. This took somewhere between 4, 6 or 8 hours to do – every day. It was a big burden to take them away from patient care. That's where Cliniconex came in. It had everything we needed: voice, email and text; it integrated with PointClickCare, and it is really easy to understand."

-Nathan Patrick Taylor, CIO, Symphony Care Network
Since they began using the Staff Add-on, the facilities at Symphony have used the feature in a variety of ways including:
Improving the coordination of testing staff for COVID-19 in accordance with CMS guidelines
Reminding staff of important Infection Prevention Control procedures, such as proper use of PPE equipment
Helping manage unforeseen events such as power outages
Conducting employee surveys
Most importantly, to provide words of encouragement for their hard-working front-line staff. "Keep up the amazing work! You're making a difference out there."
Over the last 11 months, the Symphony Care Network team has sent more than 1,650 updates to their various facilities totalling more than 256,000 messages to their resident families and staff adding up to an estimated 42,500+ hours of time returned to care.
While we don't know when the pandemic will end, or what life will look like post-COVID-19, what is clear is that digital and automated communication methods are here to stay and are likely to expand into more of our lives. By being ahead of the curve now, you enable your staff to focus on their residents and responsibilities while freeing administrators of hours of time to devote to growth and further innovation.
Interested in learning more?
If you are a PointClickCare EHR customer, please reach out to your representative or email sales@pointclickcare.com. If you use any other EHR, please reach out directly to the Cliniconex team at sales@cliniconex.com.