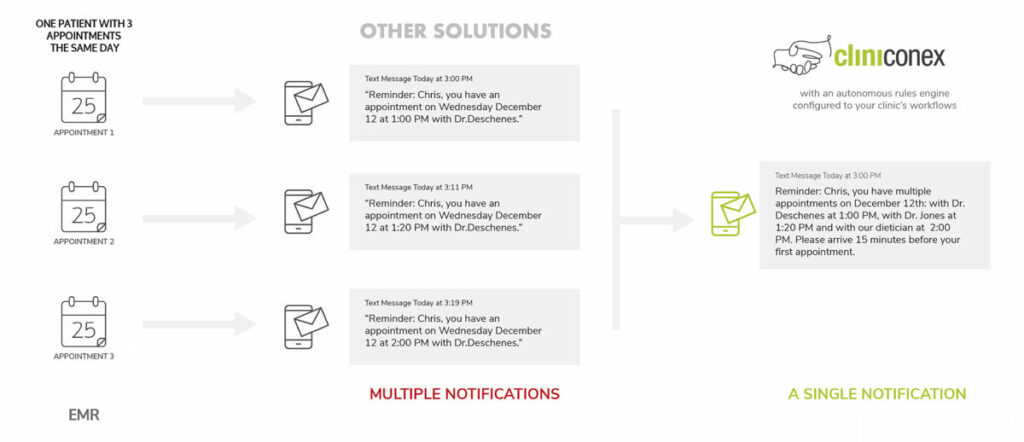 How Cliniconex reminds patients when they're booked for multiple appointments in one day.
One of the most common requests our implementation team receives is for a patient to be notified about multiple appointments on the same day- seems like it should be simple enough, right?
Unfortunately, many existing solutions must send each patient 2, 3, or even 4 separate reminders, which can lead to a lot of confusion. The patient often sees the last text message (or email) and ends up being late for their appointment or misses it altogether. If you received the 3 messages shown on the right, wouldn't you assume you've been rescheduled?
With Cliniconex, it's different. Our autonomous solution merges appointment reminders into a single message and applies the rules learned in your clinic's workflow training session. Our software automatically scans your EMR schedule to detect which appointment reminders need to be sent.
Just like the way your front desk staff would take time to understand if a patient has more than one appointment, our solution applies your workflow logic, merges reminders, then reaches out to patients in their preferred method of contact (voice, text, or email).
The result? A single, clear interaction that reduces your costs and eliminates patient confusion.
With Cliniconex's autonomous controller, your front desk staff can have their very own 'virtual assistant' that is 100% reliable and always accurate.