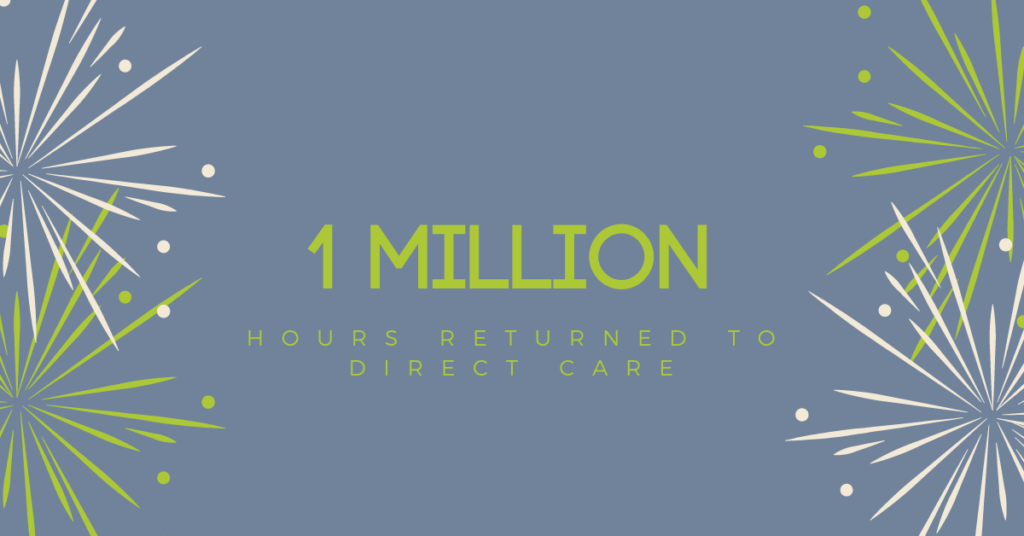 Of the many challenges and struggles senior care homes have faced during the COVID-19 pandemic, communicating with residents, families and staff has been at the forefront.
The Cliniconex team is proud to have played a role in keeping senior care communities connected throughout the pandemic. We are especially grateful for having helped return one million hours back to direct resident care.
One million hours. That's more than one hundred years!
In partnership with PointClickCare, we have onboarded over 1,500 senior care homes onto our Automated Care Messaging (ACM) platform since the pandemic began. Combined they have since sent more than 6 million messages, enabling staff to focus on residents, while keeping families and staff up-to-date on everything from vaccinations to visitations, to policy changes, to positive news and heartfelt thank yous.
When asked about the main benefits of using ACM users said that it:
Saves time
Makes it easier to communicate with their community
Ensures regulatory compliance
Improves the consistency of communications
One million hours is a lot – but so are 6 million messages. Here's what some of those messages to families and staff looked like:
Visitation Procedures
"We are thrilled to announce we are holding visits once again! Our facility will continue to hold group activities and visits in accordance with Public Health guidance. At this time, we are only holding scheduled visits and will honor any previously scheduled visits, with outdoor visits being preferred (if the weather allows). To keep everyone safe, there are protocols in place that need to be maintained during all visits. All visits will be by appointment only, limited to two visitors from the same household, and restricted to a designated area. To schedule a visit, please give us a call. Thank you."
Severe Weather
"We are still using our generators for emergency power, and are working with the City to resolve the problem. Our priority remains our patients, and we are making sure those with cell phones are able to get in contact with their loved ones directly. We will update as the situation evolves."
Weekly Updates
"We are happy to announce that we have been COVID-19 free for 8 weeks! We continue to follow federal and local guidance regarding infection prevention. Our team will also continue to receive training related to COVID-19. Please contact us should you have any questions or would like to schedule a visit. As always, we are focused on enriching the lives of our residents and appreciate your continued partnership."
Good News and Thank You to Staff
"What a great day! Our residents received their first dose of the vaccine! Big thank you to our infection control team. Of course, we will continue to practice strict infection control measures, so keep up the amazing work you are all doing. Thank you!"
With the release of our Staff Add-on earlier this month, we have aimed to put an even more effective tool in the hands of Administrators and Care Directors. Helping care teams automate communication so they can focus on what they do best is why we do what we do. Here's to saving even more valuable time for care teams in 2021!